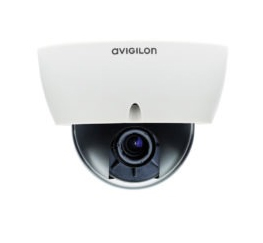 A dome CCTV camera gets its name from the dome-shaped casing that the camera sits in. Whilst these are relatively discreet CCTV cameras in appearance, this doesn't stop them from deterring criminals. This is because the dome casing makes it really difficult for people to see which direction the camera is pointing. This creates an air of uncertainty for potential thieves or vandals approaching from all directions.
Unobtrusive design means it's easy to fit
Suitable for indoor and outdoor use
Vandal resistant dome means it is harder to interfere with the camera
360-degree rotation of the camera so you can cover all angles
This is the best type of CCTV camera for shops, restaurants, casinos and hotels because the design allows you to monitor a wider angle at your premises. Many also consider this option to be the best indoor CCTV camera as it can be placed on a strategic point of the ceiling to cover all angles of the room.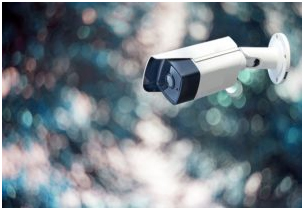 Bullet CCTV cameras have an iconic design that is highly visible. They are cylindrical in shape and are capable of observing long distances. Bullet cameras are most commonly placed outdoors so their casings are made resistant to water, dust and dirt.
Highly visible so acts as a deterrent
Resistant to dirt in challenging environments
Provides surveillance over long distances
Casing also protects against glare and rain
Bullet cameras can be used to good effect in a range of industries such as manufacturing, property management and farming. They not only record good quality pictures but also send out a message to passers-by that your premises are under surveillance. That's why they have traditionally offered the best CCTV for outside operation.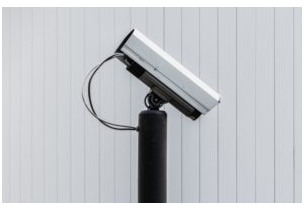 C-Mount CCTV cameras are the ideal option for those who may wish to adapt the field of vision. They are equipped with detachable lenses that can be switched around to monitor varying distances. C-Mount cameras are typically bulky so, like bullet cameras, act as a visible deterrent to criminal activity.
Special lenses can be fitted to the camera to extend its range beyond 40 feet
Highly visible appearance that deters criminals
Rugged camera casing can be added to protect the camera in cold environments
Weatherproof housing makes it ideal for outdoor use
This is the ideal camera for observing a stretch of road on the approach to your premises. It is therefore popular in the utilities and logistics industries. Those operating in the food and manufacturing industries may also elect for this option, due to the camera's reliability in extreme temperatures.
Infrared/Night Vision CCTV Cameras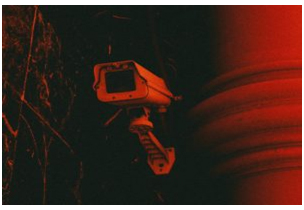 As the name suggests, these cameras are designed to operate optimally in pitch black conditions. They achieve this by using infrared technology. Infrared models are more expensive than day/night cameras and those opting for this option usually do so because night recording is vital to the security of their business.
Infrared LEDs allow clear recording even in pitch black environments
An infrared cut filter activates in the daytime for clear images in lighter conditions
Can capture images even in the presence of fog, dust or smoke
Records colour imagery in the daytime and black and white at night.
This is the best CCTV camera for night vision functionality. It's therefore the ideal choice for those who need ultra-reliable recording in complete darkness. For example, banks, farms and manufacturing plants.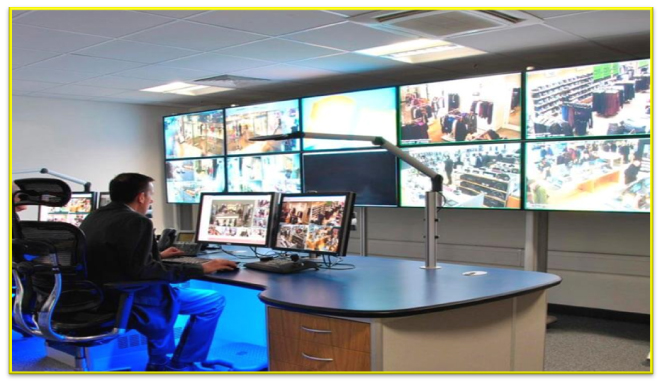 PTZ Pan Tilt & Zoom Cameras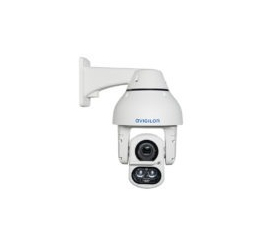 With a PTZ (Pan Tilt & Zoom) camera, your security team can have complete control on what is recorded. At the touch of a button, the camera lens can pan left and right, tilt up and down or zoom in and out. It's the ideal choice if you have a security guard who is monitoring a live video feed on site.
Optical zoom on these cameras means you can focus closely in on subjects
Pan and tilt feature provides 360 degree field of vision
Image resolution is usually impeccable so facial features can be distinguished
Security teams have full control of recording and can react to live situations.
This is the best CCTV camera for remote viewing. It is really popular in large retail environments and is regarded as the best CCTV for business premises that have a specific valuable object to protect. For example, a museum could program the camera to pan to a particular entry or exit point when it detects movement. So even when it is not being controlled remotely, the camera can cover a much larger area and do the same job of several static cameras.
These cameras share live footage across the internet so images can be easily accessed from anywhere on the globe. The bandwidth of the video is compressed, in order to make theonline feed reliable. Archive footage is stored on network video recorders (NVRs) or on secure software for later access.
Footage can be viewed online from anywhere in the world
Easily accessible archive footage
Easy setup as co axial cables and a computer station are not required
Low maintenance
A network or IP CCTV camera is the ideal choice for business owners who are often away from site and on the move. Footage can be viewed from anywhere in the world, via a PC, laptop or mobile phone.
High Definition (HD) CCTV Cameras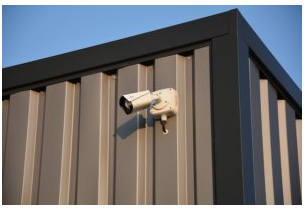 HD CCTV cameras offer an unrivalled picture quality that delivers high clarity images. Depending on your budget, they can deliver resolutions of 720p, all the way up to 4K. Therefore, there's no danger that the subject of recordings will ever appear grainy or distorted.
High definition pictures capture subjects in perfect clarity
Extra clarity can also be achieved with zoom function
Available on most CCTV models such as domes and bullets
Crystal clear imagery provides undeniable criminal identification
High definition cameras are particularly useful for use in environments where there is a high risk of theft. Businesses such as banks and casinos should opt for HD cameras, in order to ensure that visitors to their premises are captured in perfect clarity. The footage recorded will be able to provide undeniable identification in the event of a crime being committed.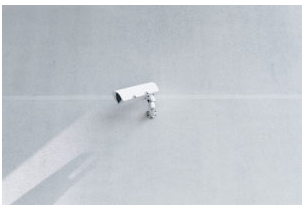 Wireless CCTV cameras were created to minimize installation time. They also make the appearance of the camera much tidier, which may be an important factor for locations such as churches, museums or stately homes.
Easier to install than your average CCTV system
Discreet and tidy appearance and a less obtrusive fitting
Images transmitted over internet so can be viewed anywhere
Secure storage and easy access of archive footage
If a spotless presentation is important in your industry, wireless CCTV cameras are a great security option. Their discreet appearance helps them to blend into the interior. What's more, there is less set up and camera maintenance required, and footage is transferred via the internet for convenient access.
Speak to our CCTV experts today
Our team of expert security consultants can provide a free, no obligation quotation for your CCTV requirements. They can also conduct a free site survey to advise on the right types of CCTV cameras for your business and how to conform with GDPR and CCTV regulations.
Contact us today by calling 9121543200 or apply for a free quote. Alternatively, visit our commercial CCTV systems page to find out more about our services.
We have helped hundreds of businesses around the Telangana & Andrapradesh who are:
Interested in installing a new CCTV system on their site
Considering an upgrade to their existing set of cameras
Require maintenance for their system
In need of 24/7 monitoring or a guard response
The Business Watch Group is a fully accredited fire and security company that operates across the UK. Our passion is your safety and security.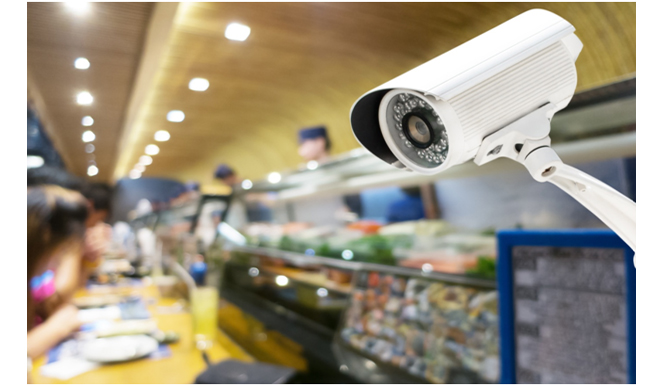 Things to Know Before Buying a CCTV Camera
CCTV cameras have evolved substantially in the last decade. But in all fairness, these are not a part and parcel in everyone's life. So looking through the newest of CCTV technologies, features and types of CCTV security cameras can be intimidating. Also, asking for help from a marketing consultant could be just a waste of time. They usually throw in the most polished words to make buying CCTVs all the more difficult. So before you choose the best CCTV camera for your home or business, you need to have a brief idea on what to look for.
1.Does it come with an inbuilt SD card slot or does it depend on a separate internal storage on DVR?
With the advancement of CCTV technology, today many of the CCTV cameras are CCTV systems by themselves. They come with a micro SD card slot in them. Users can insert memory cards of various capacities, 32GB, 64GB, or 128GB for recording. Many of modern CCTV cameras sold in India are upgradeable up to 128GB.
But there are also cheaper cameras that do not have the internal storage and depend on the surveillance hard disk in the DVR.
The modern CCTV cameras can rotate horizontally and vertically to cover a large space around them. The maximum angle that a CCTV camera can rotate horizontally is called as Pan and vertically is tilt. Some of the best CCTV cameras, for instance, Sricam SP005 SP Series can pan up to 355 degrees and tilt up to 90 degrees. Certain CCTV cameras could be remotely rotated by their apps. So if you want to monitor a large portion of three-dimensional space, a CCTV camera with higher pan/tilt is essential.
The best CCTV cameras of today produce videos in 720p (1MP) and 1080p resolution. Of course, greater the resolution, better will be the quality, however, it also means you need a higher amount of storage to record a day's video. If you have a DVR with large internal storage in terabytes, buying a high-resolution camera may not be a bad idea. But cameras with in-built storage will easily get filled. To deal with this, some of the cameras have an overwrite feature which self-erase micro SD once it fills up and continues recording. Obviously, this can create recording loss problems. A 1MP camera approximately takes up to 38GB of data space on recording for a whole day. So relate the resolution of CCTV camera also with the storage space and backup time than just with the visual quality before choosing a particular CCTV camera.
4. Does it have a motion and audio sensor?
Motion sensors are actually a part of smart security cameras. These are currently not very popular in India because of their high price but are definitely the future of CCTV cameras. For instance, Samsung Smart cam HD Pro costs Rs.18,499 per piece. With motion and audio sensors, CCTV cameras detect and alert owners about unusual sounds and movements by sending them a notification on their mobile app. If you are in need of a top notch security system and want to best protect your home or office, buying a CCTV camera with motion and audio sensors is worth the money.
5. Is it easy to Install and setup?
In general, wireless CCTV cameras are the easiest to install and setup as there are no cables involved. The ease of CCTV camera installation mainly depends on positioning and mounting. The cameras with magnetic bases or sticky pads are easy to mount, but for a long term, screwing the camera on the wall is a reliable way.
If a CCTV camera has a good pan/tilt, it might not require accurate positioning. You might just place them over a heightened table or wardrobe.
However, if, to mount a CCTV camera it requires drilling holes and hammering molding pins and screwing them, the installation could be difficult and might require professional help. Some CCTV Camera Suppliers in India offer free installation on the purchase. A good CCTV camera product will come along with a mounting stand and screws.
For first time use, you might require to download an app from Google Play Store on your phone, install it, signup and authenticate by scanning the QR code on the camera. This should only take a few minutes. Overall, the setup process of a CCTV camera should be an easy process in this day and age.
6. Can it be used for Video chat with your family?
There are CCTV cameras with an inbuilt microphone that allow 2-way communication. This is useful for people who want to keep in touch with their kids at home and ensure their safety and security.
For an outdoor CCTV camera, waterproofing is a must. If you want to monitor the space in-front of your shop, home or any other outdoor space, you should look for waterproof CCTV cameras.
8. What are the accessories that come in the box?
Before you choose a CCTV camera, you have to check the details about the contents you will be getting on buying it. The key contents to look for are installation gear like mounting stand, power screws, cables and power adaptor. Sometimes, low-cost CCTV cameras do not come with power adapters, and it would be an additional expense. So make sure you get all these in your package.
9. Number of Infra-Red LEDs in the Camera
Infra-Red LEDs are small bulbs located on the sides of the lens at the center. These provide Infra-Red light at night for night vision. Greater the number of LEDs, better will be the quality of recordings at night.
10. Maximum range of the camera
The maximum range or range of a CCTV camera is dependent on focal length of the lens and size of the image sensor. Greater the range, the clearer will be the objects captured from the far away distances. Higher range is essential for outdoor CCTV cameras. A CCTV camera should have an at least of 20 to 25mtrs of range.
11. Does it work offline, does it have an inbuilt Hotspot.
Inbuilt Hotspot in a CCTV camera allows users to access the live stream on their smartphone without the need of an internet Wi-Fi. But this works within a limited distance from the camera. These cameras are easy to identify as they have an antenna on them. This is a good feature to have in CCTV cameras installed in small shops and malls. Managers can monitor various parts of the floor, without having to connect to the internet connection.
12. Does it connect to existing DVR?
Some manufacturers make and sell CCTV cameras as a part of CCTV system. They are only compatible with their parent DVR. So if you are buying a CCTV camera for an existing DVR, make sure it is compatible with it.
13. Is the CCTV camera supplier legit?
Over the past few years, the number of CCTV Dealers in Delhi and other major cities of India have tremendously increased. Many of these do not have the certification to offer and install CCTV cameras. But since the surveillance rules in India are a gray area, these companies are still lurking around in the market. It is estimated that over 75% of the CCTV installations are illegal. Times are changing and in future, a new law could be passed to remove illegal installations. So make sure you look for reputed and certified, CCTV Camera Dealers before ordering an installation. Also, when buying from online stores, make sure that images shown are real. It is possible that some products are showcased with misleading images.
14. Outdoor vs. Indoor Cameras
Indoor cameras are suitable for offices and homes. These are compact in size and typically have a dome shape.
Outdoor cameras, on the other hand, are used for spaces including grounds, outside shops, markets, airport, roads etc. These have high pan/tilt and zoom which enables them to cover large spaces.
15. Wired or Wireless CCTV cameras?
Wired: Wired CCTV cameras are quite popular in India because of their lower price. These are connected to DVR through a Siamese Coax Cable. Wired CCTV cameras are more reliable than wireless CCTV cameras as they are hard connected through wires.
Wireless: Wireless cameras offer benefits in terms of mobility and scalability. These are usually easy to install and move around. Good quality branded wireless cameras are expensive than
Wired cameras. The high-end offices and homes today prefer these cameras as they do not disturb the aesthetics with wires and cables. For using wireless cameras, one should have a high-quality router, reliable internet connection, and speed.
A decent quality CCTV camera comes with at least a one year warranty and the robust ones can have warranty up to 3 or more years.
17. Best CCTV brands of India
Mahindra CCTV Security System is the Professional Dome CCTV camera installation service providers in Hyderabad. We are the number 1 source for providing a wide spectrum of CCTV installation and maintenance services in Hyderabad for residential and commercial properties. With our installation and camera programming, you can access your property or business anywhere seamlessly!
Best CCTV Installation Service Providers in Hyderabad
Missile CCTV Security System is the Best CCTV Installation Service Provider in Hyderabad well equipped with dedicated and knowledgeable professionals. We own a team of skillful experts committed to delivering highly driven excellence ethnically for renowned clients. Our dome Camera installation services are guaranteed to make you 100% satisfied.
Apart from dome cameras, we also install other types of CCTVs including bullet cameras, wireless CCTV camera, C-Mount CCTV camera, high-definition HD CCTV camera, day and night CCTV camera, network and IP CCTV camera, infrared and night vision CCTV camera, Wi-Fi CCTV cameras, and hidden camera.